Pedestrian Accidents
Pedestrian Accidents
It's great to get out on foot, grab some exercise, and enjoy the day a bit. Most of us are pedestrians at some point during any given day (even if it's just a jaunt from the parking garage to a nearby building). Unfortunately, pedestrian accidents are about as dangerous as traffic accidents get – due to the fact that pedestrians have nothing to shield them from the impact of an accident and lack the speed and power to get out of harm's way if the need arises. If a driver's negligence leaves you injured in a pedestrian accident, reach out to an experienced Ohio pedestrian accident attorney today. 
Putting Safety First
Because you are so vulnerable when you're on foot, it's critical that you put safety first. All the following can help: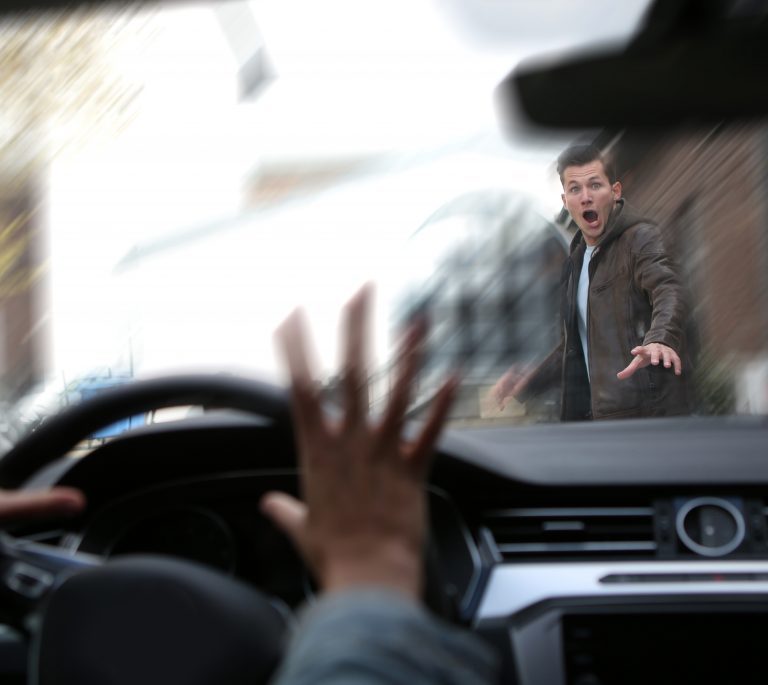 Always follow the pedestrian rules of safety, which includes obeying all pedestrian signs, lights, and signals
Cross at crosswalks that have pedestrian signals whenever possible
Cross the street as part of a group whenever possible
Always look both ways before crossing (it was the safe thing to do when you were a kid, and it's the safe thing to do now)
Wear a piece of reflective clothing if you must walk at night (pedestrian accidents are more common after dark)
Wear comfortable and well-fitting walking shoes that are in good condition
If you don't trust a driver to stop, ignore what the signal tells you and wait before proceeding
Put your phone and headphones away (walking while distracted is dangerous)
Putting your own safety first is never more important than when you are on foot.
Pedestrian Accidents and Motorist Negligence
The bulk of pedestrian accidents are caused by driver negligence, including all the following forms:
Distraction

– A motorist who is distracted by his or her phone can easily miss a pedestrian in his or her midst. Pedestrians are often harmed by distracted drivers. 

Impairment

– Drunk drivers suffer cognitive, sensory, and physical impairments that make them less likely to see pedestrians and less likely to react safely in accordance.
Excess Speed

– When a motorist drives faster than the law (or the road's condition) allows, they make our roads more dangerous for pedestrians in two distinct ways – these drivers have less time to react safely to pedestrians in their midst, and they ensure any pedestrian accidents that do happen are more likely to be fatal.
Aggression

– When a motorist chooses to drive aggressively, he or she throws safety out the window, and pedestrians can pay the deadly price. 
Turn to an Experienced Ohio Pedestrian Accident Attorney for the Professional Legal Counsel You Need
If a pedestrian accident that was caused by a motorist's negligence leaves you injured, the skilled pedestrian accident attorneys at The VanNoy Firm in Dayton take immense pride in helping clients like you recover fully on their physical, financial, and emotional losses. Because we're here for you, too, please don't wait to contact us for more information today.
How Can We Help You?
Our premier Dayton attorneys work diligently to defend our clients' rights with aggressive and individualized legal representation.
Why Do People Choose Us?
Because We Win!
I would like to give Anthony and his entire staff a 5-star review for a recent incident that they assisted my family with. They were all wonderful to work with and they truly do care about their clients. If you are looking for legal representation, I cannot recommend them high enough!
Charles
Having an easy time with this firm.
Candle
The VanNoy Firm was a guiding light and ray of hope to my family. Attorney VanNoy knows his trade and prepares his cases with skill and expertise. His attention to detail and knowledge of laws are exceptional. He was compassionate, has integrity, informative, and fully invested. I knew I could trust him. He has an engaging presence in the courtroom. He is an attorney that will do everything in his power to fight for you. His hard work and diligence resulted in a favorable outcome in my family's case. Not only was he a standout; his team were as equally…
Shonna
Kristie L. Gotwald, Esq. handled my case in a professional manner. I appreciated her persistence to get the best results for my case. I never had any issues getting in contact with her, and she always responded in a timely manner. I highly recommend her!
Mitzie
Wonderful people! Gets the job done.
Chaunsay
Attorney Gotwald is very professional, really listens to you and responds promptly to questions/ concerns.
Nedra
Anthony VanNoy is hands down the best attorney in the Dayton area! Has handled several things for my family & always gets the best outcome. Will definitely fight for you.
Angelique
Great staff and amazing defense team I'd recommend them all 10/10.
Nova
He listens to the problem.
Christine
Mr. VanNoy is The Definition of a SUPER LAWYER 👌🏽😁 I am Beyond SATISFIED With the Work he's Done with my Case. I Can't Be More Happier with the Outcome of My legal Situation. Take My Word. He is Patient, Professional, And Determined to Fight for His Clients. please Hire Mr. VanNoy for Your Legal Issues. He will get the Job Done RIGHT! He helped me tremendously I've Never Met any Attorney Like him. 👌🏽❤️🙏🏽
Daniella
You Can Trust Your Future To The VanNoy Firm
How Can We Help You?
Make a consultation with our expert team to solve your problems.
Fill out the form below to schedule a consultation.
Call Now Button