Motorcycle Accidents
Dayton Motorcycle Accidents
Motorcycle enthusiasts hear the siren song of the open road and enjoy the freedom that their bikes allow, but motorcycle accidents are some of the deadliest on our streets, roads, and highways. Because a motorcycle offers no physical protection or shield from the energy and impact of an accident, motorcyclists often suffer very serious injuries and immense damages in motorcycle accidents. If another driver's negligence leads to a motorcycle accident that leaves you injured, it's time to reach out to an experienced Ohio motorcycle accident attorney for the professional legal guidance you need. 
Motorcyclists Are More Vulnerable to the Dangers of the Road
When you're on your bike, there are a variety of variables that leave you more vulnerable to the dangers of the road, and these include: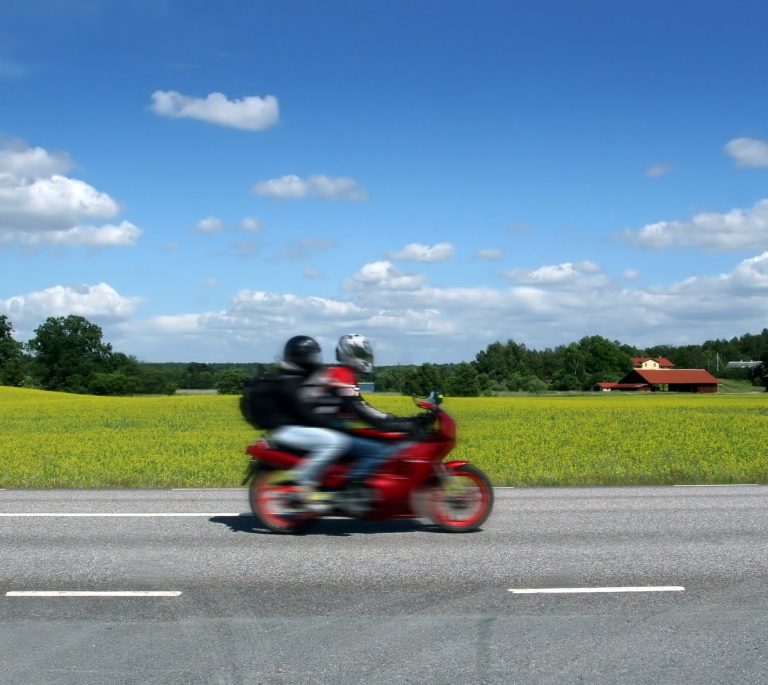 Because you take up considerably less space on the road, you are more difficult for other drivers to see, which means you're far more likely to get lost in their blind spots. 

You have nothing but your helmet to protect you from the direct impact of an accident.

Because you travel on only two wheels, you're more susceptible to the dangerous effects of bad weather, poorly maintained roads, debris-strewn roads, and more.

In an accident, hitting the ground directly in a motorcycle accident is a foregone conclusion, and this leaves you susceptible to dangerous road rash and burns (in addition to every other physical danger). 

The size/weight differential involved in motorcycle accidents (between your bike and the other vehicle) means that you are far more likely to be seriously injured than anyone else involved is. 
Driver Responsibility
Although you are more vulnerable when you're on your motorcycle, this does not alter the fact that every motorist owes everyone else on the road – including motorcyclists – a duty of care. In other words, the drivers with whom you share the road are responsible for being on the lookout for motorcyclists in their midst and for adjusting their driving accordingly.
Driver Negligence and Motorcycle Accidents
Motorcycle accidents are often caused by the carelessness or negligence of other drivers, and this negligence can take far too many frightening forms, including:
Distraction

– A motorist who is distracted by his or her smartphone (or anything else) can fail to see nearby motorcyclists.

Impairment

– Drunk drivers are the impetus behind far too many fatal motorcycle accidents.

Exhaustion

– Drowsy drivers can be just as dangerous as drunk drivers, and many fail to recognize this frightening truth. 

Excess Speed

– When drivers exceed safe speeds, they ensure that they are both less likely to see motorcyclists and are less likely to react safely to them on the road. 
An Experienced Ohio Motorcycle Accident Attorney Can Help
If someone else's negligence leaves you injured in a motorcycle accident, obtaining just compensation is critical to your recovery, and the accomplished motorcycle accident attorneys at The VanNoy Firm in Dayton are here for you and are well-positioned to help. Your case is important, so please don't hesitate to contact us for more information today.
How Can We Help You?
Our premier Dayton attorneys work diligently to defend our clients' rights with aggressive and individualized legal representation.
Why Do People Choose Us?
Because We Win!
I would like to give Anthony and his entire staff a 5-star review for a recent incident that they assisted my family with. They were all wonderful to work with and they truly do care about their clients. If you are looking for legal representation, I cannot recommend them high enough!
Charles
Having an easy time with this firm.
Candle
The VanNoy Firm was a guiding light and ray of hope to my family. Attorney VanNoy knows his trade and prepares his cases with skill and expertise. His attention to detail and knowledge of laws are exceptional. He was compassionate, has integrity, informative, and fully invested. I knew I could trust him. He has an engaging presence in the courtroom. He is an attorney that will do everything in his power to fight for you. His hard work and diligence resulted in a favorable outcome in my family's case. Not only was he a standout; his team were as equally…
Shonna
Kristie L. Gotwald, Esq. handled my case in a professional manner. I appreciated her persistence to get the best results for my case. I never had any issues getting in contact with her, and she always responded in a timely manner. I highly recommend her!
Mitzie
Wonderful people! Gets the job done.
Chaunsay
Attorney Gotwald is very professional, really listens to you and responds promptly to questions/ concerns.
Nedra
Anthony VanNoy is hands down the best attorney in the Dayton area! Has handled several things for my family & always gets the best outcome. Will definitely fight for you.
Angelique
Great staff and amazing defense team I'd recommend them all 10/10.
Nova
He listens to the problem.
Christine
Mr. VanNoy is The Definition of a SUPER LAWYER 👌🏽😁 I am Beyond SATISFIED With the Work he's Done with my Case. I Can't Be More Happier with the Outcome of My legal Situation. Take My Word. He is Patient, Professional, And Determined to Fight for His Clients. please Hire Mr. VanNoy for Your Legal Issues. He will get the Job Done RIGHT! He helped me tremendously I've Never Met any Attorney Like him. 👌🏽❤️🙏🏽
Daniella
You Can Trust Your Future To The VanNoy Firm
How Can We Help You?
Make a consultation with our expert team to solve your problems.
Fill out the form below to schedule a consultation.
Call Now Button