Employment Authorization
Employment Authorization Cards and Work Permits for U.S. Immigrants
The attorneys at the VanNoy firm believe it is our job to help you find work in the U.S. and begin living your American dream.
In most cases, you have to be a U.S. citizen or a green card holder to get a job in the United States. However, in some cases, you can get a job without applying for a green card or becoming a full U.S. citizen. Instead, you must apply for an employment authorization card. In this article, we'll discuss how the Ohio immigration attorneys at the VanNoy Firm help Dayton, Ohio, residents secure work permits in the U.S.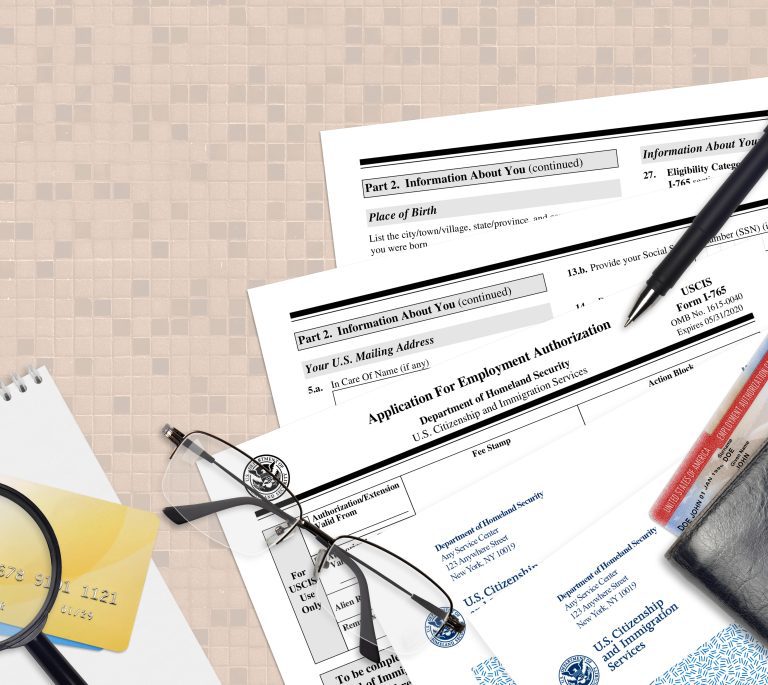 What is an EAD Card or Work Permit?
An EAD card is also known as an employment authorization card or a work permit. Once you have the card, it proves your legal right to work in the United States. Employers are required by law to ensure that all of their employees are lawfully allowed to work in the U.S. The work permit is kept on file by the employer when they are filing tax forms. 
Do I Need to Apply for an EAD Card?
If you have a green card or are a U.S. citizen, you will not need to apply for an EAD card. Asylum seekers, refugees, those on student visas, those under temporary protected status, spouses and fiances of American citizens, and the spouses of children on the following visas:
Additionally, some work visas only authorize a foreign national to work for one employer or within one industry. Those who want to apply for other positions must apply for an EAD card. Those with pending I-485 or I-589 forms will need to apply for an EAD card before working. 
What Should I Do if I am Not Sure of My Status?
If you want to seek employment, have an opportunity to do so, and do not know if you are authorized to work in the United States, the Ohio immigration attorneys at The VanNoy Firm can review your case, take a look at your current status, and determine which forms need to be filed with the government so that you can start working in the U.S. 
Our attorneys work closely with all of our clients to ensure that they understand their obligations, meet them, and ensure the process runs as quickly and effortlessly as possible. Call today to schedule a free consultation, and we can discuss your next moves today.
How Can We Help You?
Our premier Dayton attorneys work diligently to defend our clients' rights with aggressive and individualized legal representation.
Why Do People Choose Us?
Because We Win!
Personal service at its best!
Tony
I would like to give Anthony and his entire staff a 5-star review for a recent incident that they assisted my family with. They were all wonderful to work with and they truly do care about their clients. If you are looking for legal representation, I cannot recommend them high enough!
Charles
Having an easy time with this firm.
Candle
The VanNoy Firm was a guiding light and ray of hope to my family. Attorney VanNoy knows his trade and prepares his cases with skill and expertise. His attention to detail and knowledge of laws are exceptional. He was compassionate, has integrity, informative, and fully invested. I knew I could trust him. He has an engaging presence in the courtroom. He is an attorney that will do everything in his power to fight for you. His hard work and diligence resulted in a favorable outcome in my family's case. Not only was he a standout; his team were as equally…
Shonna
Kristie L. Gotwald, Esq. handled my case in a professional manner. I appreciated her persistence to get the best results for my case. I never had any issues getting in contact with her, and she always responded in a timely manner. I highly recommend her!
Mitzie
Wonderful people! Gets the job done.
Chaunsay
Attorney Gotwald is very professional, really listens to you and responds promptly to questions/ concerns.
Nedra
Anthony VanNoy is hands down the best attorney in the Dayton area! Has handled several things for my family & always gets the best outcome. Will definitely fight for you.
Angelique
Great staff and amazing defense team I'd recommend them all 10/10.
Nova
He listens to the problem.
Christine
You Can Trust Your Future To The VanNoy Firm
How Can We Help You?
Make a consultation with our expert team to solve your problems.
Fill out the form below to schedule a consultation.
Call Now Button